5' 3" height, 180 pounds weight
160 cm height, 82 kg weight (13 stone)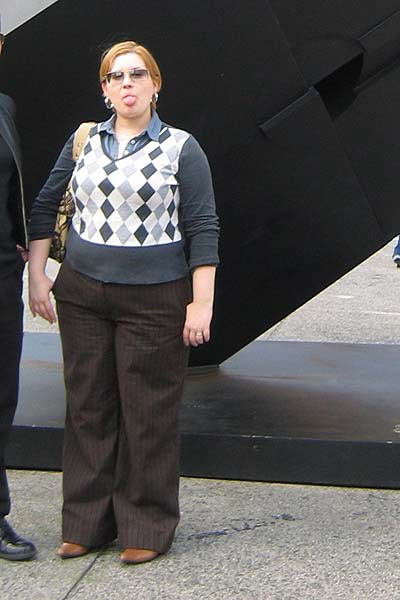 Dear Rob,
Here is a picture of me for the height/weight chart. I might be a little close to Holly in the 5'3" 170lbs slot, but maybe you could use my picture for the 180lbs slot? In this picture I'm 177lbs, and I'm (always) 5'3".
I totally agree with what other people have said about assumptions about how certain weights look. In the media, you only see or hear about women who are less than 140lbs or more than 250, but I'm sure that most people fall somewhere in the middle. I often see a woman in a magazine or on TV whose weight is given as 130 something, but who is clearly 150, 160 or 170lbs. I have to admit that I told the DMV I was 160lbs when I was quite a bit heavier than I am in this photo. I think there's so much room in the middle where people have no idea. Strange.
I'm finding this project fascinating and I really appreciate everyone else who sent a photo. I think it would be even more interesting to get one of those fairground "guess your weight" people to look at the pictures, and see how accurate they were. I'd also be curious whether they have certain rules they judge by, or just a lot of experiece.
Agnes.
--
---